Is it time to throw away your old grimey mattress?
Schedule your free quick and easy consultation, we serve Pueblo, CO and the surrounding areas.
Moving a mattress by yourself can be a hard and sometimes dangerous task. Call Dash Junk today for any removal service in Pueblo Colorado & surrounding areas. That ugly, old, stained mattress taking up space in your yard? Are the neighbors giving you some weird looks, you can either tell em "its apart of the landscaping" or call the junk removal pros at Dash Junk to haul it away! We will dispose of it in the proper facility. So save the effort and allow us to haul it off today!
3 great reasons to hire Dash Junk
Dash Junk Pueblo offers mattress removal services at a great cost to you. You should hire a local Colorado company because:
We can save you the pain and aggravation of doing it yourself
Quick and efficient customer service
Mattress will be recycled and disposed of properly
Contact us today fora hassle free no obligation quote over the phone. We are always happy and here to assist you.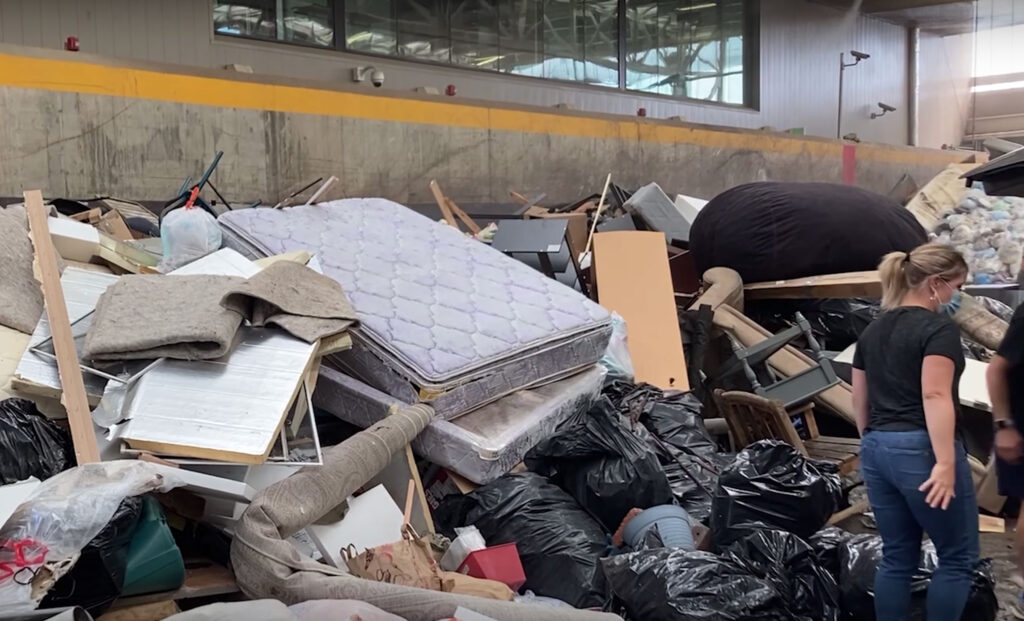 One item that often gets overlooked when it comes to junk disposal is the mattress. Mattresses are essential for a good night's sleep, but over time they can become worn, stained, and uncomfortable. So, is it time to throw that dirty mattress out? Let's take a closer look.
First and foremost, consider the age of your mattress. According to experts, mattresses should be replaced every 7 to 10 years. This is because they can become saggy, lumpy, and lose their support over time, leading to poor sleep quality and discomfort. If your mattress is approaching or exceeding this timeframe, it may be time to say goodbye.
Next, consider the condition of your mattress. If it is stained, torn, or infested with bed bugs, it is time to throw it out. Mattresses that are in poor condition can harbor bacteria and allergens that can affect your health and wellbeing. In addition, bed bugs can spread quickly to other areas of your home, making it difficult to get rid of them.
Another factor to consider is your own comfort. If you find yourself tossing and turning all night or waking up with aches and pains, it may be time to invest in a new mattress. Advances in technology have led to the creation of mattresses that are more supportive, comfortable, and customizable than ever before. By upgrading your mattress, you can improve your sleep quality and overall wellbeing.
When it comes to disposing of your old mattress, it is important to do so properly. Throwing it out with your regular trash is not an option, as it is considered a hazardous waste item. Instead, you can rely on the expertise of junk removal companies like Dash Junk Pueblo. We have the tools and experience to safely and responsibly dispose of your old mattress, as well as other household items that you no longer need.
If you live in the Pueblo, CO area, give us a call today at 719-625-2563 to schedule your mattress removal or any other junk disposal needs. We are happy to provide you with a no-obligation quote and help you reclaim your space. Let us help you say goodbye to your old, worn-out mattress and hello to a better night's sleep.
Not only is disposing of your old mattress important for your health and wellbeing, but it is also essential for the environment. Mattresses are made up of a variety of materials, including foam, metal springs, and fabrics. When disposed of improperly, these materials can take up space in landfills and contribute to environmental pollution.
By working with a junk removal company like Dash Junk Pueblo, you can ensure that your old mattress is disposed of in an environmentally responsible way. We are committed to recycling or donating items whenever possible, which helps reduce the amount of waste that ends up in landfills. By doing so, we are doing our part to protect the planet and create a more sustainable future.
In addition to mattress removal, we offer a variety of other junk disposal services in the Pueblo, CO area. From electronics and appliance removal to furniture and hot tub disposal, we can help you clear out any unwanted items in your home. We also offer commercial junk removal services for businesses and organizations that need to clear out excess items.
Our team of professionals is dedicated to providing the highest level of customer service and satisfaction. We understand that junk removal can be a stressful and overwhelming process, which is why we strive to make it as easy and hassle-free as possible. We work quickly and efficiently to remove your items, and we always leave your space clean and tidy.
If you're ready to say goodbye to your old, worn-out mattress or any other unwanted items in your home or business, give us a call today at 719-625-2563. We are happy to provide you with a free, no-obligation quote and answer any questions you may have. Let us help you reclaim your space and enjoy a cleaner, more organized environment.